Our Greatest Sorrow
Posted by: admin | on November 9, 2016
A tremendous loss
With heavy hearts, we announce the passing of Brian "Tag" Sontag, the voice and heart of The PA Podcast.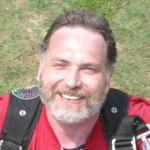 Tag, our Adventurer and Butter Connoisseur. Fly free, my friend, until we meet again.
He passed away suddenly this last weekend in his home and has left us behind in shock and sadness. The original members: Jenny Coe, Brian Kilpatrick and Travis Cassity are coming together to  honor our friend along with new friends who want to help keep Brian's memory alive.  So many loved him and we plan to do whatever we can to keep The PA Podcast running.
Please stay tuned for future announcements.
~Jenny